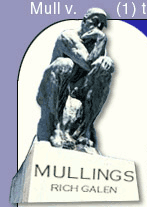 ---

Become a
Paid Mullings Subscriber!



(To join the FREE mailing list or to unsubscribe Click Here

<!

---
How Wierd Dean

Rich Galen

Monday June 13, 2005



Let's make one thing clear about who is complaining about the Chairman of the Democratic National Committee, Howard Dean. Democrats are complaining. Republicans are ecstatic.
One of the senior political writers in America, Dick Polman of the Philadelphia Inquirer wrote:
It's not a sign of robust political health when Democratic leaders feel compelled to denounce their own party chairman, and when the chairman's followers feel compelled to denounce the denouncers.
Among the Democratic leaders who are "denouncing their own party chairman" are:
Sen. Mark Pryor and Rep. Mike Ross of Arkansas. Sen. Joe Biden of Delaware. Former North Carolina Senator John Edwards. Governors Bill Richardson of New Mexico and Mark Warner of Virginia; and Rep. Harold Ford of Tennessee.
In fact one of the few Democratic leaders who have spoken out in favor of How-Wierd Dean is Democratic House Leader Nancy Pelosi. Pelosi's district is San Francisco where Dean's behavior is considered normal.
Everyone has seen the finance numbers:
Fundraising in the first quarter of 2005: DNC under How-Wierd - about $18 million; RNC fundraising under Ken Mehlman: about $42 million
Cash on Hand: DNC about $7 million; RNC about $26 million
New Donors: DNC about 20,000; RNC about 68,000
Business Week magazine reported last week that a fundraiser featuring Dean in New York City had to be moved from the cavernous Javits Center to the far more modest Essex House because the crowd was so small. If you can't turn out a crowd for a DNC fundraiser in NYC you are in trouble.
Harold Ford is an interesting case. Mr. Ford, who is African-American, is a well-respected Member of the US House from Tennessee who would very much like to be the Senator from Tennessee in the seat being vacated by Senate Majority Leader Dr. Bill Frist.
Tennessee went for Bush in both the 2000 election - when even home town boy Al Gore couldn't carry the state - and then again in 2004.
Ford is not going to win a Senate seat with base Democratic votes. Gore couldn't do it, Ford won't, either.
Harold Ford needs a huge margin from independents and a respectable percentage of Republicans to have a chance.
Having the national chairman of the Democratic Party saying (as Dean has over the past few weeks) that Republicans "have never made an honest living in their lives" and that the GOP is largely a "White Christian" party is not likely to make Republicans - or conservative-leaning independents - eager to vote for a Democrat.
Hence Ford said that Dean is (according to Richard Simon's reporting in the LA Times) "leading us in a direction that makes it difficult to win…"
The GOP currently controls the White House, the US House (plus 29) and the US Senate (+10). In the face of that, the Democrats have a chairman from Vermont.
In 1993 the DEMOCRATS controlled the White House, the US House (+ 58 - exactly double the current GOP margin) and the US Senate (+12). In the face of that, the GOP had a chairman named Haley Barbour (now Governor) from Mississippi which is politically as far from Vermont as you can get and still be on the Red/Blue map.
I want to make it clear that he didn't say this and never would, but imagine if Haley Barbour - eager to energize the GOP base - had said that the Democratic Party was largely a party of Jews and Blacks who have never made an honest living in their lives.
The Republican National Committee Headquarters would be under siege to this very day. And rightfully so. Newspapers would have long since run out of ink writing scathing editorials. And rightfully so.
Every Republican in the country would have been required to demand the resignation of Haley Barbour or risk being accused of agreeing with him. And rightfully so.
So why is How Wierd Dean saying these things? Again, Rep. Harold Ford in the LA Times: "We really don't have a message right now."
Democrats do have a message and they have a messenger who is delivering it. Neither are going to help them win elections.
On the Secret Decoder Ring page today: Links to the Inquirer and Times pieces; a very nice Mullfoto and a not-nice Catchy Caption of the Day.

--END --
Copyright © 2005 Richard A. Galen
---
Current Issue | Secret Decoder Ring | Past Issues | Email Rich | Rich Who?
Copyright ©2002 Richard A. Galen | Site design by Campaign Solutions.