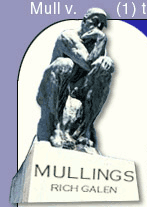 ---

Become a
Paid Mullings Subscriber!



(To join the FREE mailing list or to unsubscribe Click Here

<!

---
Gigantic Business Administration

Rich Galen

Wednesday May 4, 2005



---
BEGIN RANT ALERT: This is a good one. But it is a rant.
Ok. I know you think I make things up, and I take the smallest of slights to be the beginning of World War III. and once I decide don't like someone or something I don't like them or it forever.
But sometimes I'm right.
In Monday's column (a letter to my friend Jenn), I made mention of the fact that I was the pro bono master of ceremonies at the Small Business Administration's annual awards dinner but:
They wouldn't let me put a really terrific column I wrote a couple of years ago in honor of small business people on the tables … because the sponsor of this dinner - Sam's Club - more or less had the exclusive rights to put crap at the tables. Sam's Club is owned by Wal-Mart.

I said, "You are the Small Business Administration, not the biggest retailer in the world Administration."
I was so angry about how the SBA treated me that I was going to write about how dreadful an organization it is in Monday's column. The Mullings Director of Standards and Practices, bless her heart, suggested that I wait until Wednesday and see if I were still steamed.
I am.
Not only that, but in yesterday's Wall Street Journal - not the editorial pages, but in the news section - is an article by reporter Gwendolyn Bounds which leads thus:
A federal court judge ordered the U.S. Small Business Administration to turn over an original version of a report detailing how lucrative government contracts designated as going to small businesses sometimes end up in the hands of big ones instead.
Oh, no. This can't be right, can it? The SMALL Business Administration?
Surely it must have been minor dribs and drabs. A couple of sawbucks here, a few C-notes there. Here's another graf:
[A] report, released last year by the SBA's Office of Advocacy, says that in fiscal 2002, roughly $2 billion in federal contracting money believed to have gone to small businesses primarily went to large firms.
Whoa! Check, please! Two BILLION dollars? Even for a federal organization this borders on real money.
Not only that, but the SBA has been denying Freedom of Information Act requests for the original report (now in its fourth revision) so a group on the West Coast had to sue and a Federal Court has given the SBA 21 days to release the original - un-sanitized, one suspects - report.
This theory gets legs when Ms. Bounds quotes an SBA lawyer as saying the report was hidden so the SBA could "make certain that nothing is exaggerated" unduly to the public.
Oh. I get it. The Small Business Administration thinks that small business people should be treated like small children. We can't be trusted to look at a report and determine whether TWO BILLION dollars which was supposed to go to small businesses went, instead to large businesses.
I don't know whether Sam's Club was a recipient of the SBA's largess, but they were the principal sponsor of this dinner and some guy from Sam's Club gave one of the speeches.
If the report is correct, then the TWO BILLION bucks stop right at the desk of the Administrator of the SBA, Hector Barreto.
Barreto has been the Administrator of the SBA since July, 2001, which means he is the only Administrator the SBA has had during the George W. Bush era.
Either Baretto knew two billion dollars which was earmarked for small businesses went, instead, to large corporations or he didn't.
If he did, he should be fired immediately for malfeasance.
If he didn't, he should be fired immediately for nonfeasance.
I have never used the services of the SBA. But for the tens of thousands of small business people throughout the country who have been led to believe that the SBA exists to protect them, to help them get a toe hold, to help them qualify for a piece of the Federal pie, this is nothing short of treachery. END RANT ALERT
On the Secret Decoder Ring page today: A link to the SBA web page so you can tell them what you think, a Mullfoto which made me laugh, and a pretty good Catchy Caption of the Day.

--END --
Copyright © 2005 Richard A. Galen
---
Current Issue | Secret Decoder Ring | Past Issues | Email Rich | Rich Who?
Copyright ©2002 Richard A. Galen | Site design by Campaign Solutions.